What we think of Excel Essential Training:
Excel is one of the most useful programs there is. Learning Excel will bring you more clarity in many different projects.
I studied Excel in school and this is a fantastic beginners course on how to use it.
Working in excel can bring you a lot of time back when making things like budgets, charts, calculations, DD for investing, creating visualizations, data entrys, lists and so much more.
Included In Excel Essential Training:
What Excel is and what to use it for

How to use the workbooks

How to autofill colums

How calenders and time work in your project

Simple and more advanced formulas

Make absolute formulas

How to copy and autofill formulas

Use autosum

Search in forms using lookup functions

Editing colums and backgrounds

Layout commands

PBP (Page Break Preview

Setting up and editing charts

setting up PivotTables
And much more!
If you would like to learn how excel works and how to use it, I'd recommend joining the 330 000+ others who has completed the Excel Essential Training course!
Get up to speed with Microsoft Excel, the world's most popular spreadsheet program.
Follow along with Excel expert Dennis Taylor as he demonstrates how to efficiently manage and analyze data with this powerful program.
Learn how to enter and organize data, perform calculations with simple functions, and format the appearance of rows, columns, cells, and data.
Other lessons cover how to work with multiple worksheets, build charts and PivotTables, sort and filter data, use the printing capabilities…See Full Description by pressing the image below.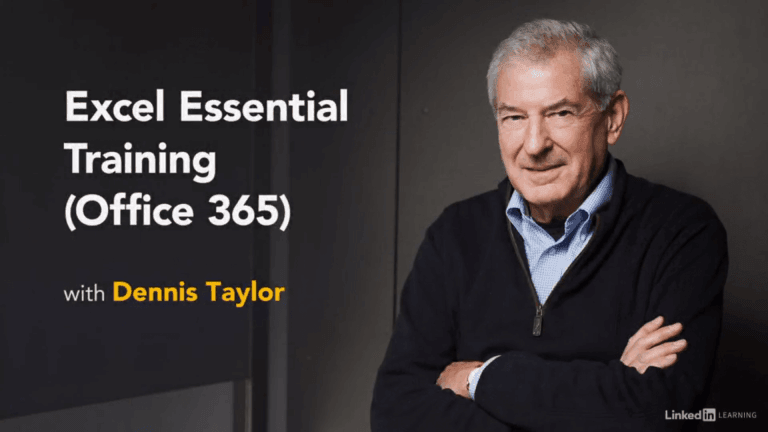 Disclaimer
This site include links or references to products or services with which this website is in some way affiliated. Should you purchase a product or take up a service recommended from this website, the owner may receive compensation. Such compensation may be in the form of money. No extra cost is passed on to you, the buyer, as a result of this compensation.