What we think of Flipping Free Finds: The High Profit & Low Risk Handbook
This book is written for US citizens but can be used anywhere with a litle extra job. What I mean by that is that the sites used in this guide is sometimes only avalaible in US. You must therefor find the similar sites of your country.
Flipping items is an age-old side hustle. You buy something and sell it a higher price. It sounds easy, but what if you don't have any money to start with?
Don't worry.
In Ty's course you learn how to set up a flipping business from scratch with zero upfront costs.
After reading Flipping Free Finds, you'll know how to find valuable products for free, how to win online contests or sweepstakes, and where to sell your items.
Everything comes together in a few relatable real-life examples.
This is what you learn in Flipping Free Finds:
Opportunities to find free items are everywhere. You just need to know where to look. Ty teaches you where to search for great deals and what to look for.
Afterwards, she goes into the details of selling your product online:
Where to sell?
How much to sell it for?
How to calculate potential profits.
Precautions
Privacy measures
If you're not sure where to flip your products, you will find guidance here. Ty discusses multiple platforms for online sales; complete with pros and cons, and her personal experience.
This course makes flipping look so simple, you'll want to start right away.
The Flipping Free Finds course includes:
Introduction
Method 1: Source Online Marketplaces
Method 2: Winning Free Stuff
Real Life Examples
Search Tips
Using eBay Completed Listings
Privacy and Safety
Making the Flip
Conclusion
You should buy Flipping Free Find: the high profit, low risk handbook if you:
Would love to own a business but don't have the money to get started
Are willing to show up every day and look for opportunities
Want to make extra money by selling products online
Want to make more money with little/no startup cash
All in all, It's an eye-opening book that you should read if you want to start flipping products.
You want to make more money, but you don't have the means to get started.
I've been there. It's frustrating and discouraging.
Funds are already tight, and there's literally NOTHING left over after bills are paid.
Or maybe you've started building something great, but you just can't scale as fast as you'd like.
I totally get it.
I mean, how do you make something out of nothing?
How do you start a business with little or no capital?
I'm going to show you how.
We're alive during an incredible time in history.
A time where we are all connected by the Internet.
Without you even realizing it, there are resources lining up for you to use them.
In this guide, I am going to show you how to leverage these resources to your advantage.
The best part?
People are going to give you perfectly good inventory- for free.
This is not a joke.
Right now, there are scores of free items waiting for you to claim and resell at insane profit margins.
Craigslist, OfferUp, Facebook Marketplace – free inventory is EVERYWHERE.
Including places you would NEVER expect – you probably browse one site in particular EVERY DAY- and you're going to be shocked when you find out how much you're missing!
I'm giving you my personal and proven strategies to help you: find the free items – list and sell them – reinvest the profits – repeat.
I used the exact methods detailed in this book to start my own, rapidly growing 5-figure business working from home.
I now have multiple streams of income that flow into my bank account every month.
Yes, me. A stay at home mom of 5. No college degree and no prior business experience.
I started with zero funds. All I had was the Internet and an open mind.
There is more opportunity out there than you could ever imagine.
Here's what people are saying about Flipping Free Finds
…
See Full Description by pressing the image below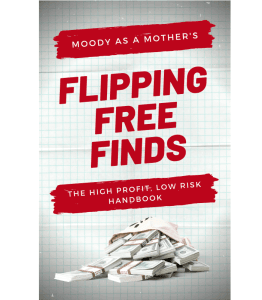 To find out more on Moody go here
Disclaimer
This site include links or references to products or services with which this website is in some way affiliated. Should you purchase a product or take up a service recommended from this website, the owner may receive compensation. Such compensation may be in the form of money. No extra cost is passed on to you, the buyer, as a result of this compensation.