What we think of Flipping Heck! – Double Your Income by Flipping Items Online:
Flipping Heck is a good and thoroughly guide on how to flip products on Ebay. The book is written for UK residents but the knowledge can be used pretty much anywhere. You'll just have to work a bit harder. What I mean by that is that in the book you will get to know what shipping-companies to use and what stores Jack buys products from. If you don't live in Uk then you'll have to figure this out by yourself.
All in all it's a great guide that teaches you everything you need to know about flipping products on Ebay.
You've probably heard of flipping.
Flipping burgers?
Flipping pancakes?
No.
Taking everyday items and flipping them on the internet to turn them into cold hard cash.💰
There's always been that one factor holding you back from getting started though, right?
I get these questions all the time from people just like you – people who want to start but need that extra reassurance that it is possible to double their income.
Will flipping work for me since I'm not in the USA?
What items can I flip if I'm not in the USA?
Do the same steps work for people in the UK?
Can I get results if I'm in the UK?
How did your success go as a person from the UK?
That's exactly why I made 'Flipping Heck!'. To show you that all of these challenges can be overcome.
In fact, I'll show you exactly how.
With my knowledge and guidance, I will show you step-by-step exactly how to flip items on Ebay for a profit. Whether you're in the UK or not.
This is specifically aimed at people in the UK! However, the principles inside this book apply worldwide, so don't hold back.
I'm going to take you on a journey from start to finish across the crazy landscape of flipping.
Whether you're a complete beginner or already got some sales under your belt – you will learn something that will help you in this book.
I want to give you the best chance at success before you even make that first sale.
Are you ready to grind and take your income to the next level?
Let's get to work.🚀
My Risk-Free Money-Back Guarantee for You
If you buy this ebook, follow the advice inside, and don't see results within the first 90 days, I will refund you. You simply need to show me that you used the tools and techniques I mentioned inside, consistently for 90 days. No half-assing – you must try!
Why 90 days?
Ebay stores take around 90 days to get access to promoted listings and higher selling limits. During this time you will be able to make significant progress towards your goals.
If you're not earning money from flipping – I've not done my job. So we have an agreement with two terms. As long as you've put the work in and can prove it to me, and have NOT got results, I will refund you.
This ebook WILL help you double your income, give it your best shot and apply all the knowledge within.
This Book Covers…
What exactly flipping is and how you can start in a week.📅
How you can set an earnings goal and work backwards to smash it.🔨
How to set up a killer Ebay store which converts listings to cash.💸
The best advice in the game to avoid suspension and be a top-rated seller.👍
Where you can get postage supplies… for FREE!🤯
The best couriers to use to reach your customers fast and safely.📦
How to handle dreaded customer complaints with ease.😎
The best stores to source products, without needing Walmart!🛒
What products you can sell for a profit in this ever-changing game.💰
How to make sure your listings hit as many people as possible & turn into cash.📈
Planning your supply routes around town to be a more effective flipper, saving you time.🚗
*BONUS CONTENT*
The exact scripts you need to handle customer questions, complaints and returns like a professional.👔
My very own profit-tracking…See Full Description by pressing the image below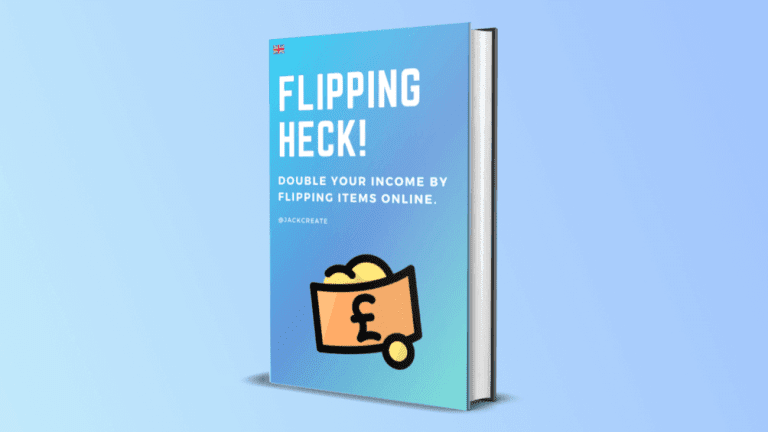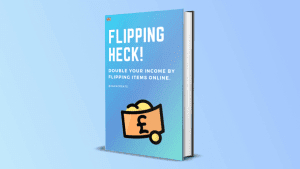 Disclaimer
This site include links or references to products or services with which this website is in some way affiliated. Should you purchase a product or take up a service recommended from this website, the owner may receive compensation. Such compensation may be in the form of money. No extra cost is passed on to you, the buyer, as a result of this compensation.