What we think of Freelance Writing For Beginners:
This is a really good guide on how to start freelance writing!
It's almost as the author is holding your hand and guiding you through all lessons she has learned while doing this herself.
When you're done reading you'll feel confident and capable to do this on your own. You'll know where to turn for the different stages you're in as well as how to get in touch with clients.
The book is divided into four books:
Introduction
Before you start writing
Finding work
Doing the work
+ Many bonuses
The bonuses are:
Writing samples for job ads
Self-editing checklist
Freelance writing contract template
Freelance writer website checklist (Yes you'll also learn how to make your own website)
Email pitch templates for:
Response to Job Ad
Letter of Introduction (LOI)
Guest Post Pitch
Cold Email Pitch
The text is written in a way that you can tell there's confidence behind the words. She knows what she's talking about and she's able to teach it with humor.
Ultimately this is everything you need to start your carrer in freelance writing plus some helpful tips and tools.
Freelance writing is the BEST way to make money from anywhere in the world using just your laptop.
Why?
You can do it from anywhere
You can start with zero investment
You don't need any experience
You don't need fancy equipment
You can take on as much or as little work as you like
You already have all the skills you need
The myth that you need contacts, or a degree, or writing experience is just that. A myth.
And I'm living proof of it.
I've been writing for money from wherever in the world I happen to be for almost a year. I don't have connections or qualifications and until putting my writing samples together, had barely written a word since leaving school.
Because the truth is this:
If you can read and write at a 4th grade (10-11 years old) level
If you have a computer and access to the internet
If you can use a bog-standard spelling and grammar checker
Then you too can make money as a freelance writer.

This guide will show exactly how to get going and includes advice and information on everything from choosing a niche to setting your rates; from where to look for work to pitching clients successfully.
What does the guide cover?

An introduction to the different types of freelance writing
Why Freelance Writing is the best online business for beginners
Can you be a freelance writer if you're a non-native English speaker?
An overview of what you'll need before you get started
Choosing a profitable niche, identifying your target clients
Getting professional: launching your website, writing samples, setting rates
Putting yourself out there: LinkedIn, Upwork, and Contently
18 strategies for finding your first paid writing gig
Finding clients: cold email pitches, guest posting, LinkedIn
Tips on how to write articles, blog posts and guest posts
Advice on how to write for a living, establishing writing routines and maintaining momentum

Also includes:

A list of 36 useful resources and tools every freelance writer needs
4 proven email pitch templates
A downloadable Freelancer Contract Template
How to Write Samples for Job Ads (Checklist)
The Freelance Writer's Ultimate Self-Editing Checklist
Everything Your Freelance Writer Website Needs Checklist

30 Day Money-Back Guarantee

If you don't win any work within 30 days of buying this ebook, I'll send you a full refund. Just send me an email or a DM on Twitter with…See Full Description by pressing the image below.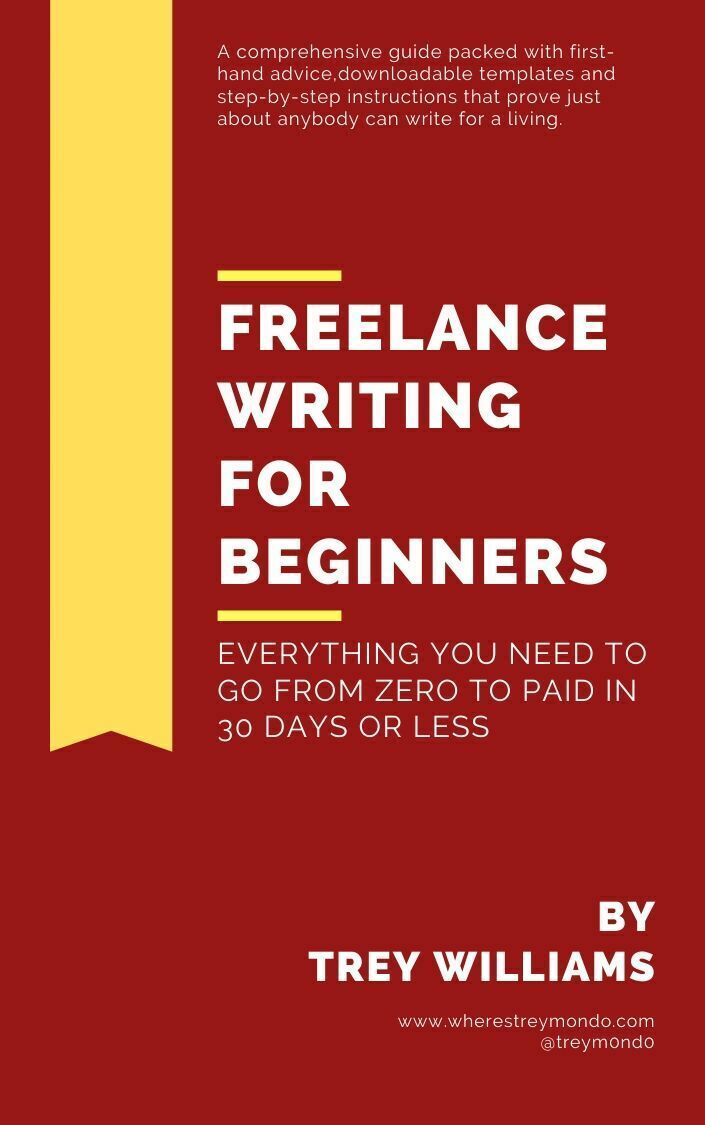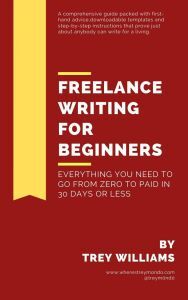 Fits with:
The Massive List of Freelance Writing Opportunities
Treys Full library Here
Disclaimer
This site include links or references to products or services with which this website is in some way affiliated. Should you purchase a product or take up a service recommended from this website, the owner may receive compensation. Such compensation may be in the form of money. No extra cost is passed on to you, the buyer, as a result of this compensation.