What we think of Make It Stick:
Make It Stick is not your ordinary twitter guide, in fact it's not a twitter guide at all. Sure you can take the lessons and build a great twitter account with it but you can also do so much more.
This is about writing good and writing content that gets engegement. This book teaches you many good ways to tap into peoples emotions and making sure that you get the respons you want.
Make it stick teaches you what topics to write about to ignite peoples emotions, using pathos and mixing it with logos and ethos. If you don't know what this is, don't worry, you'll know after reading this.
Mastering these tecniques is something you learn about in school when you're studying marketing. In this book you get a great starter point to learn the tecniques.
You will be taught words to keep away from and how to divide readers into responding argumentative.
Even thought I don't consider it to be a Twitter book, you'll learn some do's and don'ts on Twitter. You'll also get the basics on how to get twitter success as well as an analysis of 25 highly successfull tweets.
I would recommend Make It Stick to anyone who wants to build a following on any platform. Even though it's focus is on Twitter, the lessons can be used anywhere.
If you want to know more on how to succeed on Twitter I highly recommend you to upgrade to the premium package! Then you'll get a Monetization guide as well as another guide.
Learn the Secrets of Twitter Success From a $100K Per Year Influencer, Copywriter, and Educator Who Believes That Anyone Can Learn The Art Of Persuasion
Why this guide is a great buy…
It's written by a professional copywriter (me)
It's written by an extremely successful Twitter influencer (also me)
It has over 100 5-star reviews, and only 1 review below that (a 4-star that made me cry)
It has given thousands of people a "look under the hood" on persuasion and Twitter marketing
I've received hundreds of messages from customers saying that it is the most useful purchase they've ever made
What's Included
The 3 pillars of persuasion
Topics that hit people on an emotional level
Writing styles that make tweets impossible to ignore
How to not get banned (you can't win if you don't stay in the game)
Analysis of 25 viral tweets from a variety of creators
Tips on how to craft a content strategy
Tips on how to get content ideas
And much more
Bonus: A short guide on how to network your way to 1000 followers
Upgraded Package Bonus: My advanced Twitter monetization guide, complete with instruction on how to build your "invisible sales machine"
Proof &Testimonials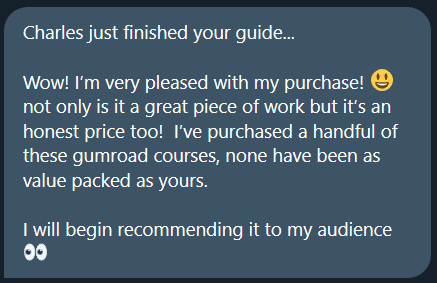 30 Day Refund Guarantee
Afraid you won't get any value out of this?
Well, don't be. It comes with a generous refund guarantee.
If you aren't satisfied, just send an email to charles@writingtoriches.com, tell me why, and you'll get your money back. I hate feeling buyer's remorse just as much as you, so I'm eliminating it. You don't like it, you don't pay. It's that simple.
So Much To Gain, So Little To Lose
Alright, so the guide costs you a little bit of money. I get it. Nobody likes to part with their hard-earned cash.
But think about this…
One viral tweet will deliver more value than you pay
A few semi-viral tweets will deliver more value than you pay
One great content idea could make either of those happen for you
Plus, if you're not 100% satisfied, you get your money back.

That means no risk and a reward that could legitimately change your life.
So what are you waiting for?
Hit that little 'I Want This!' button now, and let's get to work.
Warning: Prices are subject to rise. Order today to lock in this low price.
Disclaimer: Showing my earnings is meant to be aspirational. I do not guarantee that you will see the same kind of success. That will rely on personal effort, the state of the economy, and many other factors. If you're looking for guaranteed income, my products are not for you.
Go To The Product by pressing image below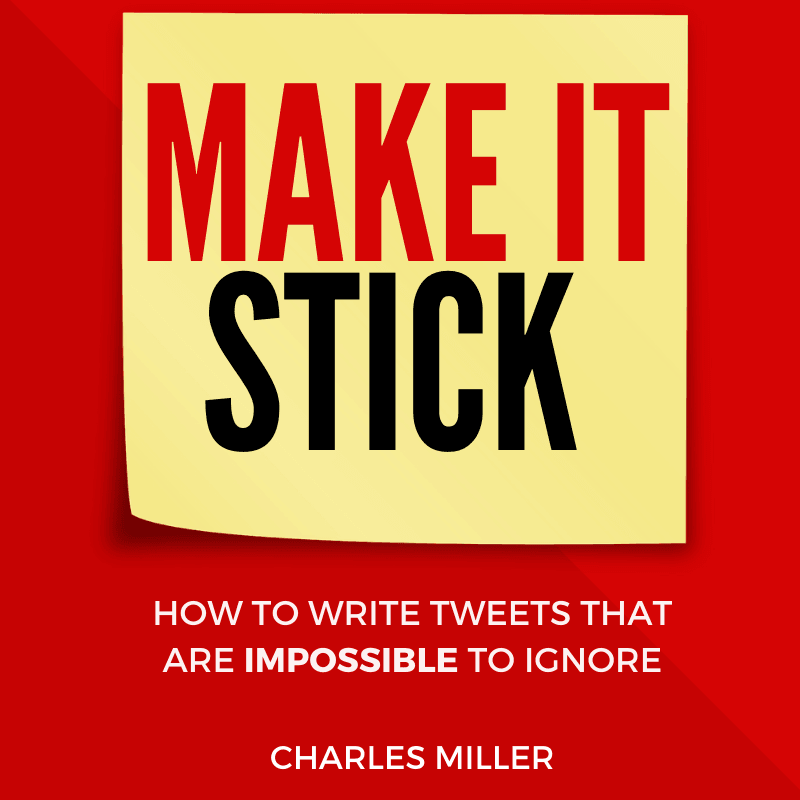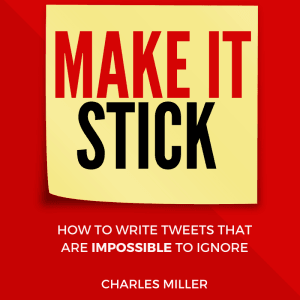 Disclaimer
This site include links or references to products or services with which this website is in some way affiliated. Should you purchase a product or take up a service recommended from this website, the owner may receive compensation. Such compensation may be in the form of money. No extra cost is passed on to you, the buyer, as a result of this compensation.