What we think of Restaurant And Bar Secrets:
Get a Chance to learn the Restaurant and Bar Secrets from renowned Chris Seferyn with his 20+ years in the business.
Restaurant and Bar Secretsis a fantastic book. It is filled with tremendiusly good information with a side dish of humor.
You will get all the do's and don'ts for the different kinds of bars and restaurants. You will also find out how many different types of establishments there are in the food and drink business and of course how to manage them correctly.
You'll learn of his own experiences and dangers of the nightclub world as well as the myths of what make a nightclub great and how to keep the social proof high.
This book is so packed with good information that I could write a small book just to summarize it.
Here are a small portion of the things you'll learn:
How to do a mix of concepts in a single place to get different types of people.
Laws (US)
Where to open your business and why
How to do marketing
Budgets and finances
How to raise money
Training staff
Point of sale systems
What to do before launch and the first 90 days after
How to provide the proper service
Design for profit
Grassrot marketing
Inspections
How to clean and what to avoid
If you want to be successful in the bar/restaurant-scene then buy this book. I guarentee that it will be worth it!
Thinking of opening a restaurant or bar in your city or town?
Would you like to avoid losing all your money?
Find out how to get started the right way and how not to embarrass yourself with an empty place or worse, closing after 6 months.
If you don't get this book, you may lose all the money you have (and your family and friends with it).
A Complete Step by Step Guide to figuring out your market, location, concept and getting it funded and open the right way.
Deep insights on the real principles on how to succeed in the hospitality business. NO bullshit. This is not some cut and paste guide.
It is written by a 25 year veteran of the business. You don't make it that long in such a hard industry without knowing what you're doing.
There are major pitfalls to avoid that can cost you hundreds of thousands of dollars.
This book will you make key decisions in choosing a location and concept. Avoiding the major mistakes that most newcomers make that doom their business from day one.
How to open with little or no money and get started.
100% Money Back Guarantee. If you read this e-book and you feel it is not worth it, I will happily refund your money within 30 days of purchase.
Go to Restaurant and Bar Secrets by pressing the image below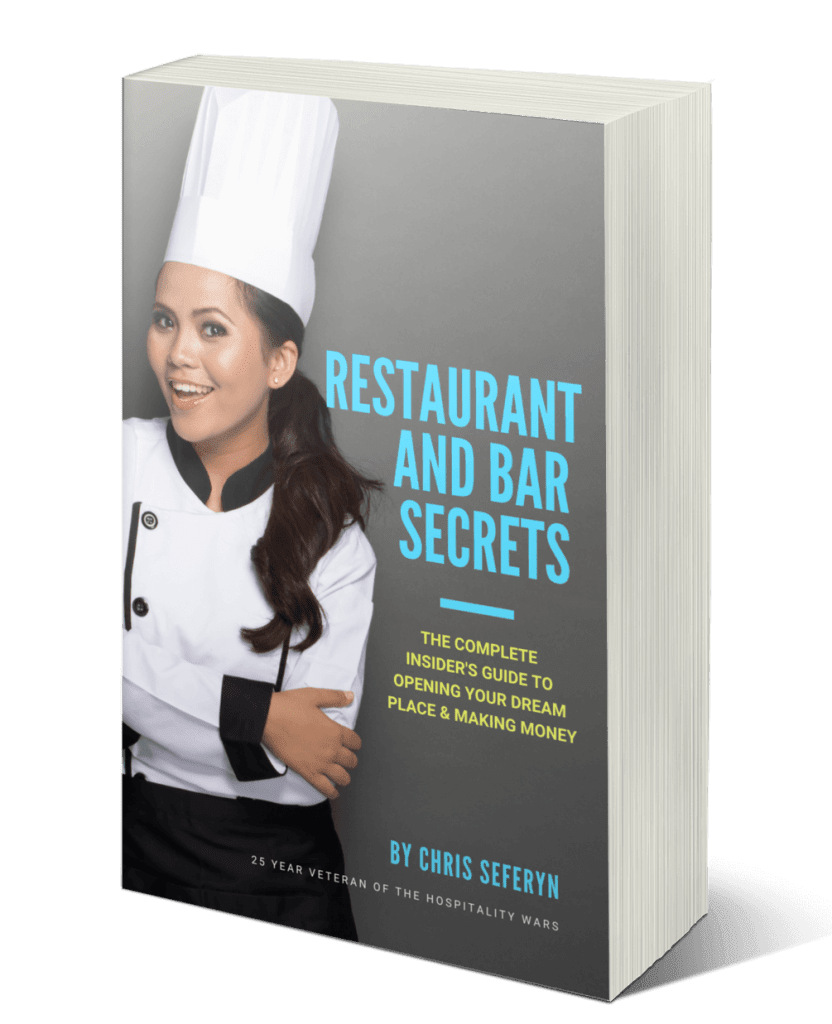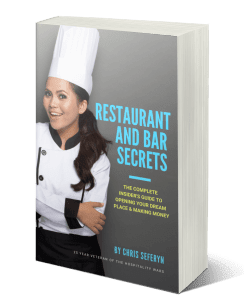 Disclaimer
This site include links or references to products or services with which this website is in some way affiliated. Should you purchase a product or take up a service recommended from this website, the owner may receive compensation. Such compensation may be in the form of money. No extra cost is passed on to you, the buyer, as a result of this compensation.