What do we think of The Vault?
To show what we think we will add one review written by one of our creators after buying The Vault (Bookclub For Winners Is the old name):
I bought the book notes last week to get a summary of many books that I have read. It stunned me right away how elaborate it was. It was so smart. It was like reading the books again but without the stories and only the lessons.
There is no doubt that this is one of the best things I have ever paid for. I am a total book nerd and I love to educate myself on how to be a better person in all aspects.
With this product I can save so many hours of doing summaries and sometimes I don't even have to read the books.
I am truly amazed and impressed by this original idea. I am going to buy this to my book-loving friends as gifts and I recommend it for everyone who loves to read. This is really a Bookclub For Winners. Straight 🔥
What if you could "download" the minds of the most brilliant thinkers and doers into *your brain*… in minutes
Dear reader,
I don't need to tell you that the smartest, richest and most powerful people in the world are readers.
Leaders are readers.
Wealth creators are readers.
Philosophers are readers.
Winners? They're readers.
If you enjoy reading books but
You struggle to find time to read a whole book…..
OR
You struggle to RETAIN the biggest ideas from the books you read….
What if there was a better way?
What if you could "Download" the minds of the most brilliant thinkers and doers into YOUR *brain*… in minutes?
You see, you don't need to read every word of a book to extract its key lessons.
Truth is, something like 97% of the knowledge you get from a 200+ page book can be summarised in as little as 5 pages.
I know this…
Because I've been reading and summarising books for the past 13 years.
So much so that when I was in university, my peers used to study MY book notes!
I used to line up to go into an exam and look around to see that EVERYONE had a copy of my notes because one of my "friends" leaked it to other students.
Many of them didn't even bother buying the books assigned to us….
You'd be *shocked* to find out just how much you can get from a no-fluff, 5-9 page summary.
Now, I've been out of school for 15 years.
But still, even though I don't have a paper to hand-in…
I don't need to do all-nighters…
(Kind of miss the co-eds, though!)
I *still* invest time building these powerful summaries from my own blood, sweat, and tears…
Or should I say from my own caffeine, nicotine and taurine "sprints" 🙂
Look, I read a LOT of books.
Sadly, most of them aren't very helpful.
Still… the investment is worth it because – when you find a life changing idea – well, your life can change in an instant.
Plus, when you have powerful summaries, you can REVISIT key ideas so you can spark those synapses and make new connections as you get older, wiser and richer.
My vault of book notes contains multiple high value, timeless books that have the power to change your life.
These are notes I refer to DAILY, to help me:
Create content
Make more money
Make important business decisions
Make important life decisions
Warm-up my "idea muscle"
Think and philosophize
If I want to remember billionaire investor Charlie Munger's decision making process, I just pull up my notes from Poor Charlie's Almanac: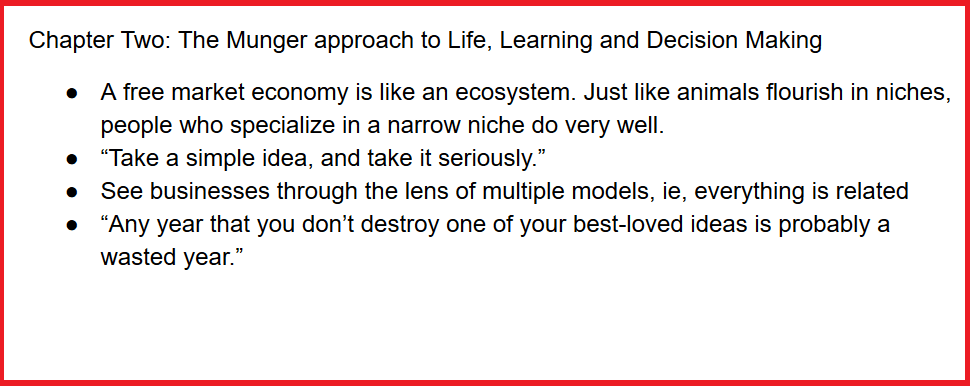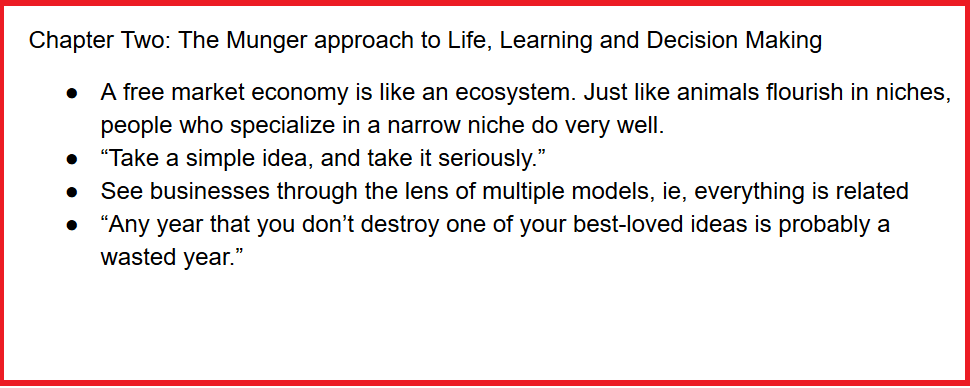 Or if I am struggling to remove a toxic habit from my life, I just pull up my notes from Atomic Habits by James Clear: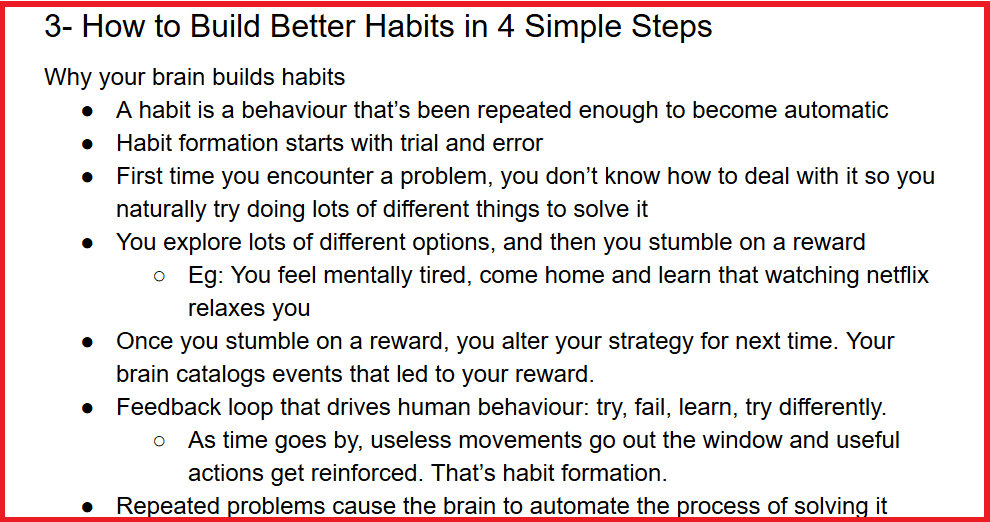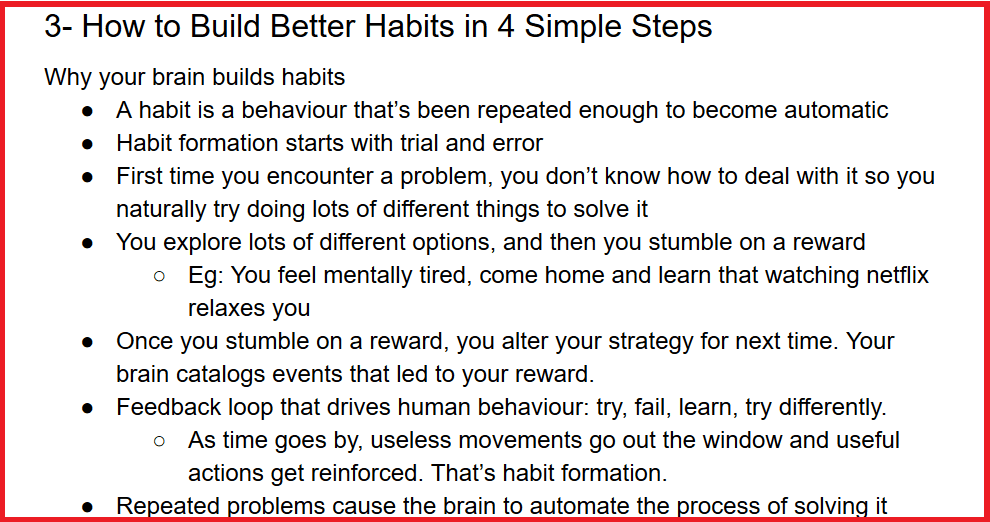 I could spend an entire day reading through these notes and get instant access to the decades of wisdom, knowledge and experience of the experts who wrote those books because they are all condensed into my book notes.
My vault of book notes has been an incredible source of knowledge for my businesses, my life, my health and my creativity.
I want to give you access to this vault, PLUS ALL FUTURE BOOK NOTES that go into the vault.
What does that mean for you?
Quickly skim my notes before deciding whether to buy the book or not
Revisit key topics from important books you read weeks/months/years ago
Upgrade your understanding the key topics of a book without reading through the entire book (Huge time saver)
Learn and new skill and grow your business
Create your own "commonplace" system
Get the best ROI on your reading time
Find inspiration for content creation
Become a better conversationalist
Since these are my actual notes in .docx form, you can go in and add your own notes as you progress through a book.
You can highlight, underline, bold, copy and paste and manipulate them in any way you like.
How much value can you *really* get from book notes?
If you went out and bought all of these books, you'll spend around $250-$300.
If you then spent 3-6 hours reading each book, and an additional 1-2 hours taking notes, it will take you around 100-200 hours to build this vault from….See Full Description by pressing image below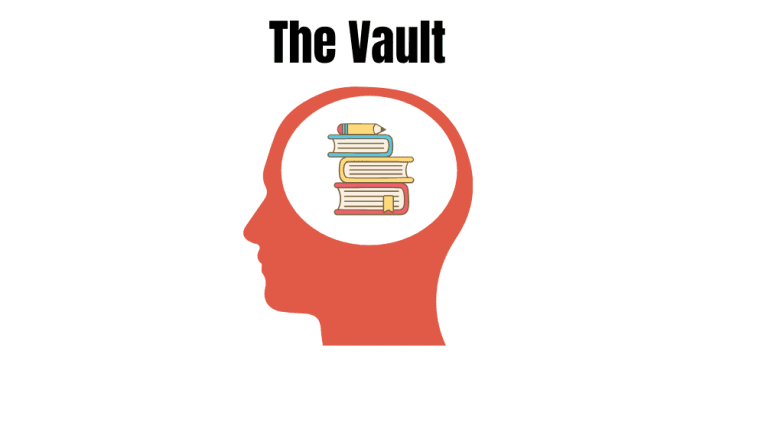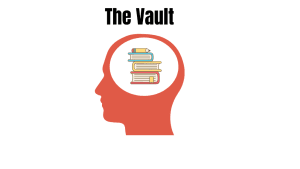 More From same creator:
Twitter Rocket Growth Blueprint
Disclaimer
This site include links or references to products or services with which this website is in some way affiliated. Should you purchase a product or take up a service recommended from this website, the owner may receive compensation. Such compensation may be in the form of money. No extra cost is passed on to you, the buyer, as a result of this compensation.