What we think of Web Design Wealth:
Web Design Wealth is a really good course on how to build websites and sell them to clients.
This is a really simple course and you don't need to learn any coding at all.
To teach you how to build websites, (Websites That Work) you'll get:
33 videos of step-by-step lessons
SEO checklist
A 5-step action plan for market research
In the section of selling these websites, you'll learn:
Finding Your Dream Client + Which Clients You Don't Want
The Main Skill That Will Bring You More Money
Copywriting
How To Create Amazing Websites FAST
Crafting Your Irresistible Offer To Land High Paying Clients
Packaging Your Services
How To Get A Consistent Flow Of Clients
The Best Ways To Find Clients
The "Referral Machine"
The Client Timeline
What To Include On Your Websites
Website Content Guide
How To Not Do Any Of The Work
3 Ways To Create Recurring Monthly Income
Action Plan: Get Your First Client
You'll also be able to join a Discord channel with likeminded people!
The video course is a bonus feature in this product and can also be bought alone here
All this together is how to gain Web Design Wealth
I'm guessing you are like me…
You want to work from your laptop while travelling the world
You want to have more free time and spend more time with your loved ones
You don't want to worry about credit card debt or paying your bills
You want to learn a simple skill that can pay big money
The problem is, you don't know what you need to do to achieve this! There are so many courses out there… but 90% of them give you a quick fix instead of the information you need to succeed in the long run.
This guide paves the way to your success. All you have to do is follow along, practice, and repeat.
Anyone can create a great website, but not everyone can sell those websites for a few thousand dollars.
NOT SURE WHAT TO DO?
Eliminate The Uncertainty Of Employment
Learn the skills necessary to make a living on your own terms
Most internet hustlers have one thing in common:
You understand how important it is to learn profitable skills. The only downside is you don't know how to make consistent and predictable money outside of the unstable job market.
The world is shifting towards freelance work, you cannot deny this. Companies are becoming comfortable with going remote and cutting costs – this leads to hiring freelancers to do the work for them.
It is safe to say, that pursuing a freelance career has the highest chance of creating a stable income in the next 5 to 10 years.
You will also give yourself the ability to make more than a salary.
A salary can make you 6 figures.
Web design can make you 6 figures in 6 months if you stuck with it long enough.
One thing to note:
Understanding web design does not mean that you know how to run a business or land high paying clients.
This course will teach you both web design and how to land high paying clients.
Hey Dan, I landed my first client today for $1000! Usually courses are very basic while your's over delivers for the price. I'm glad I made…See Full Description by pressing the image below.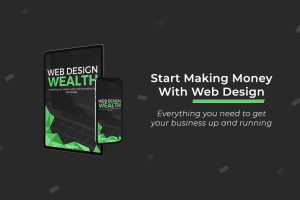 Disclaimer
This site include links or references to products or services with which this website is in some way affiliated. Should you purchase a product or take up a service recommended from this website, the owner may receive compensation. Such compensation may be in the form of money. No extra cost is passed on to you, the buyer, as a result of this compensation.