What we think of The Best Way to Market Research It:
I've always felt like I was good at research, knowing how to find things and making good decisions from it.
And even though I still am, this course has showed me how much easier it can be. Sometimes I've spent days or weeks on research, and now Joshua is doing his research in a matter of hours. It's obvious I've been doing something wrong!
This course teaches you to display what you sell, the right way. It's also a way to guarantee you're selling the right thing.
Joshua follows a simple one-sheet fillable pdf. It contains every question he needs to answer to know if the product will sell or not.
It's an easy step by step system and you get to watch him use it live.
When you're launching something new, the best feeling you can have, is to know you got a winner on your hands.
And now you will know it.

So why is this new way better?
The old way is to answer:
Who is going to buy it?
Why are they going to buy it?
Where are they going to buy it?
Even though you need to know those answers, this is much more than that.
For instance, there's a video on the Jobs-to-be-done theory.
Meaning what the prospect are looking to get done that your product will do for them.
People buy things to get jobs done.
Every product you buy has a benefit to you in these three areas:
Functional – What does it do, how does it help with writing, etc.
Emotional – how hard it is, how it can be easier, etc.
Financial – How valuable is it, am I saving money, etc.
Figuring out how to use these benefits will show you how to offer your new tool. The readers must perceive it to get the job done better than the old tools.
The Best Way to Market Research It teaches you what to offer with your new tool by understanding the:
Qualitative research – Customer verbatim
Quantitative research – Data, numbers, results
You're going to paste all this into the sheet.
But you can't just write everything down. That would take too much time!
Remarkability is essential for what you choose to note.
At the same time it's as important to know what you're not going to write about. You don't want to include anything that's irrelevant in the sheet.
When you know that what you're going to sell, will sell, it's time to start thinking of a name. You want a name that connects to what people are searching for.
That's why it's important to do keyword research as well.
Joshua Shows his keyword spreadsheet and how he ranks and filter them. He shows how to find the right keywords on Google, Amazon, and YouTube.
After the research is complete, you should know exactly how to price your product.
There's no guessing if it's the customer who's willing to pay the most, or if it's you who's willing to accept the least.
You know if you're looking for the "Looking for a deal" customer or the "looking for a steal" customer.
You'll also be able to do a forecast:
How many people will buy this?
Where are they found?
When these steps are complete and written down, you have almost finished your whole sales letter.
The research has become the copy that persuades the readers to go from interested to a buyer.
Who is Joshua Lisec?
Joshua Lisec is the world's only award-winning, celebrity-recommended, #1 International bestselling certified professional ghostwriter.
He has written the #1 best book on marketing in 2020 and the #4 best persuasion book of all time. As of January 2021, he has written a total of 55 books.
Joshua knows what it's like to spend a lot of money on courses that doesn't lead anywhere. In 2014 he spent $2400 on a course to learn how to build a course of his own. A year was spent on market research and sadly, it never led anywhere.
Instead, he created his own system of market research.
And now, he's finally showing you how to do market research the fast and easy way that will lead to actual results.
Joshua is now one of Gumroads top creators and one of the bestselling ghostwriters in the world.
If you want to sell like Joshua,
You must first learn how to do market research like Joshua!
Click the picture below to learn how he does it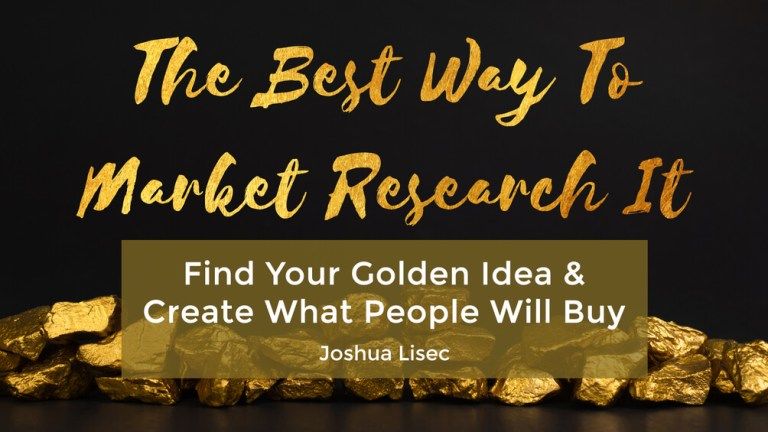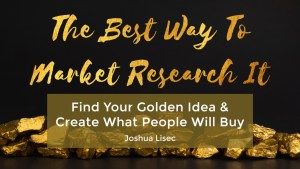 Take a look at Joshuas other courses here:
Write This, Not That: The 45 Anti-Persuasion Mistakes You're Making (And How To Fix Them)
Disclaimer
This site include links or references to products or services with which this website is in some way affiliated. Should you purchase a product or take up a service recommended from this website, the owner may receive compensation. Such compensation may be in the form of money. No extra cost is passed on to you, the buyer, as a result of this compensation.